Jump To
Initiative Overview: What is the IDEAL Vermont?
"IDEAL" stands for Inclusion, Diversity, Equity, Action, Leadership. IDEAL Vermont is a coalition of Vermont municipalities dedicated to advancing racial and other forms of equity across the state through shared learning and tangible action.
Vermont's communities become more diverse every day. As part of this growth, municipalities around the state and the country are recognizing the need to prioritize equity and social justice. Already, dozens of Vermont's communities have taken steps to be more inclusive. IDEAL Vermont was created to bridge the efforts of individual towns and counties across the state to build cohesion, motivation, and success. Guided by a multi-disciplinary team of state agencies, IDEAL Vermont helps local leaders advance equity in their communities through workshops, technical assistance, grant opportunities, and facilitated spaces to share with and learn from peers around the state.
Many community organizations, state agencies, and advocates have inspired and amplified IDEAL Vermont. We are grateful for their contributions, and especially to these key partners who provide core elements of the initiative, including grants and education.
Vermont Community Foundation
Vermont League of Cities and Towns
Vermont Declaration of Inclusion
Abundant Sun
Learn more here: IDEAL Vermont Brochure
Book a Membership Interview or Informational Chat
Is your community ready to become an IDEAL member? Complete the following three steps (preferably in this order):
Review the expectations and readiness quiz below
Complete the IDEAL Vermont Application Form
Book your membership interview or an informational chat with our team here: Book an Interview
Member Expectations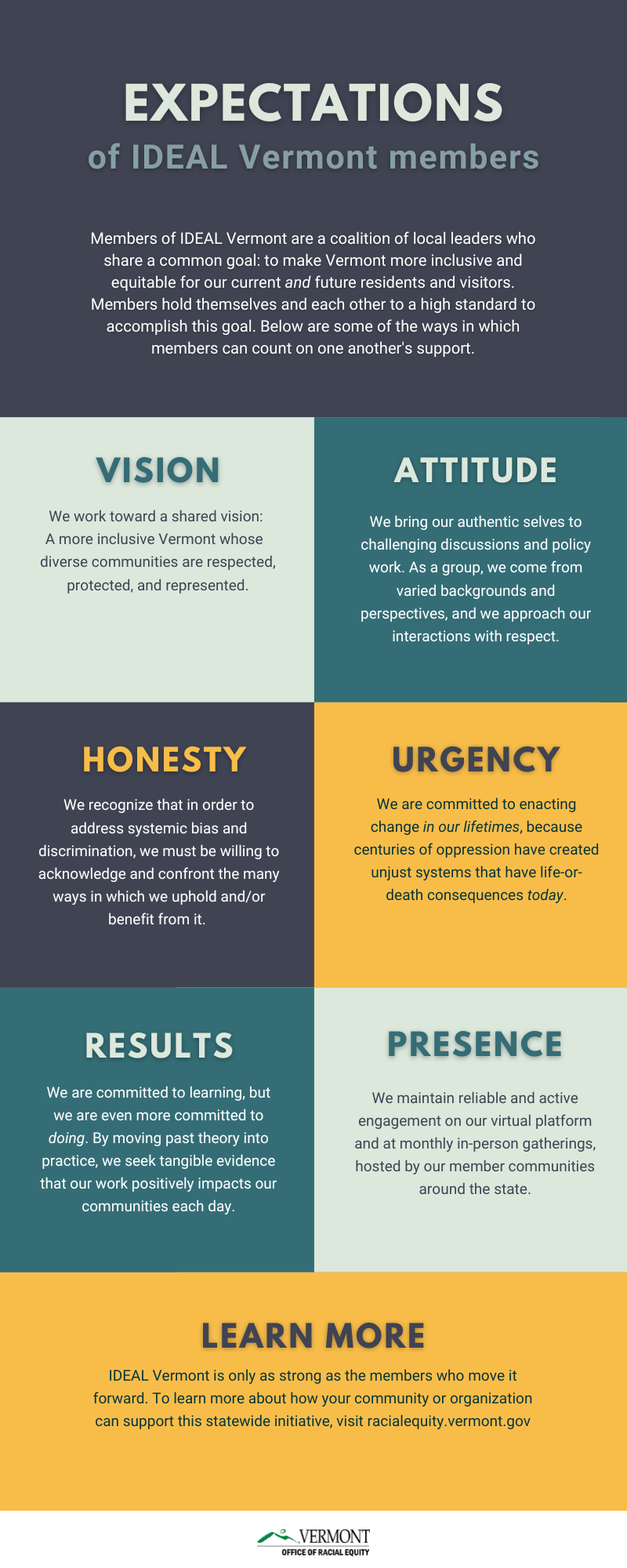 Take the Readiness Quiz
Interested in having your community join? Take the quiz below to see if you're ready.